CTV Morning Live: Mortgage Minute September 11, 2018
Date Posted: September 12, 2018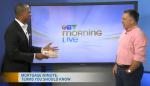 Mortgage financing and purchasing a home comes with an entirely new set of terms for buyers to understand.
Some of the common terms are as follows:
Collateral: The home in this instance is the security for the loan.
Down payment: How much money you need to have to buy a home- minimum is 5% of the purchase price.
Amortization period: The length of time required to pay off the mortgage.
Fixed rate mortgages: Rate is set for the entirety of the term and the payments do not change.
Variable rate mortgage: Rate is based on the Prime Rate decided by the lender in conjunction with the Bank of Canada rate. Payments fluctuate as the prime rate changes.
Open or Closed mortgage: Open mortgages are more expensive for borrowers and should be considered if you plan to move and sell. A Closed mortgage is a contract and you will be subject to penalties if you break the contract early.
Pre-approved Mortgage Certificate: If you are looking to purchase a property your Real Estate Agent will want to know that you have been pre-approved. It will also give you the peace of mind knowing what the payments will be on your new purchase for budget purposes.
For more information on mortgage terms, visit out glossary here.
To watch the full CTV Morning Live segment, click here.
Click here to contact your Mortgage Broker for more information.