Ontario baby boomers are planning to downsize or move out of big cities: survey
Date Posted: August 10, 2018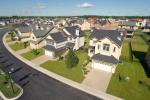 According to a new survey by Royal LePage, more than half of baby-boomer survey respondents found big cities unaffordable for their planned retirement and were considering moving and downsizing from the family home.
This will result in an increased amount of the baby-boomer generation getting back into the housing market.
"Phil Soper, CEO of Royal LePage, said smaller, touristy towns — he cited Collingwood, Ont., and Tremblant, Que., as examples — have gained appeal because they have similar amenities to big cities like hospitals, movie theatres, restaurants, with a "country feel."
Additionally, children are leaving the family home much later than previous generations with 18% of respondents saying they didn't think their children would leave before the age of 30 and 9% before the age of 35. This is a stark contract to the previous generations that generally left home early- to mid-twenties. According to the Stats Canada, over a third of young adults, aged 20-34 lived at home in 2016 across Canada and 41.6% in Ontario.
With the baby-boomer generation looking at their impending retirement years and the desire to down-size, additional pressure on price and availability may be added to the condo market.
For the CBC article, click here.